2Picture MediA NEWS
You are here:  

ANGUANEIDE- MEMORIA DEL FUTURO

ANGUANEIDE- MEMORIA DEL FUTURO

It's been a while since my last post here. Many things happened during the last year and I actually did not get the time to take care of the website. Social Medias are becoming the "way to go" and in a way unfortunately so.. But here I am again.. and hopefully soon you'll be able to see a brand new (well.. at least restyled) website.
I thought that there could not be a better time to start posting again. Starting on the 4th of May 2019 there will be an exhibition at the "Chiostro di San Francesco" in the city of Treviso (TV) showing some of my work together with sculptures from Luciano Longo and poetry from Lucio Carraro, two incredible Artists that were kind enough to involve me in the project.
ANGUANEIDE - MEMORIA DEL FUTURO
this is going to be running for 10 days up to the 14th of May 2019 and it will be displayed in the beautiful Chiostro of the Church of San Francesco right in the middle of beautiful Treviso (Northern Italy).
You'll be able to see sculptures from Luciano Longo along with a selection of some of my pictures accompanied by the words of Lucio Carraro. It's all about Nature it's power at times destructive and at times Gentle and protective, just like the "Anguane" that Luciano with incredible vision is capable of showing us using stones, Cement and other media. There will be an introduction at 11:30 AM on the 5th with Food provided by Giuseppe Agostini.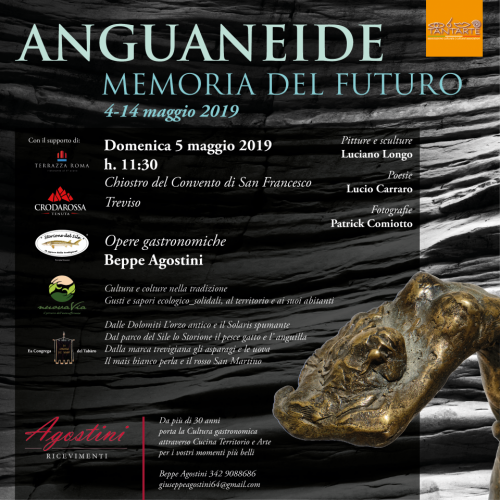 The "Anguana" is a mythological creature linked to Water, with characteristics partly similar to those of a nymph and typical of the Italian Alpine Mythology. So here we go, I hope to see you there on the 5th and also that you'll enjoy this little voyage we are happy to give you. ... Promise I'll Write to you soon with more from 2Picture Media - in the meantime check our facebook Page and share the Love with a like Facebook.com/2picture !!!